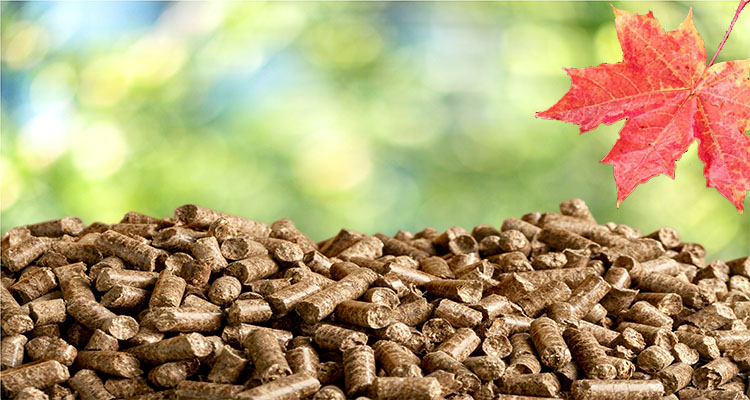 With the abundant forest resources, the wood pellet manufacturers in Canada started their business in 1990s. The export history of Canadian wood pellet can be traced back to 1998, when the Canadian wood pellets were loaded on the Mandarin Moon at Prince Rupert and shipped to Helsingborg, Sweden. With nearly two decades experience in the pellet industry, and the increased wood pellet demands worldwide, Canadian wood pellet plants are on the move.
Raw Materials for Pellet Plants in Canada
Canadian wood pellet industry is literally an industry that turns wastes into clean, renewable, solid fuel. The feedstock for wood pellet plants in Canada is wood wastes, such as wood shavings, sawdust, bark, and logging waste which is left in the forest after the sawmills process. In some districts, the feedstock also includes the trees that are killed by disease and insect, and the tree segments that are underutilized.
Raw materials for wood pellet manufacturers in Canada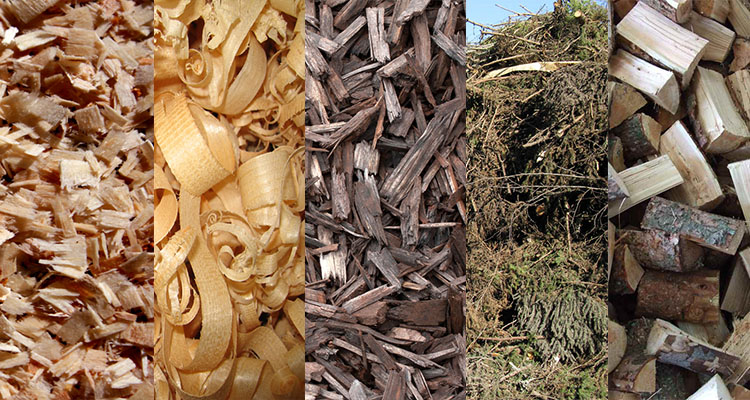 Wood Pellet Production Distribution in Canada
Back to the year of 2010, the production volume of Canadian pellet plants is nearly 1.3 million tons annually. Nevertheless, only the export volume of pellet in 2011 is almost 1.9 million tons.In 2012, there were 42 pellet plants in Canada which has a total capacity about 3 million tons per year.
There is a obvious difference between pellet plants in BC (British Columbia) and pellet plants in eastern Canada. BC pellet plants tend to be large, mostly with a capacity about 150,000 tons per year, while the pellet plants in eastern Canada are smaller, and the capacity is about 50,000 tons. Despite the number of the Canadian wood pellet plants, BC holds 64% of the Canadian total production, while the other districts(Alberta, Quebec, New Brunswick, Nova Scotia and Newfoundland) allot the left 36%.
The statistical table of Canadian pellet plant (2012)
| | | | | | |
| --- | --- | --- | --- | --- | --- |
| | Plants | Average Capacity | Largest Capacity | Total Capacity | % |
| Western Canada | 16 | 118,000 | 400,000 | 1,889,000 | 64% |
| Eastern Canada | 22 | 55,000 | 130,000 | 1,042,000 | 36% |
| Canada | 38 | 79,000 | 400,000 | 2,931,000 | 100% |
Canadian Wood Pellet Trade
Canadian wood pellet manufacturers also supply two kinds of markets, the domestic and oversea market. Canadian industrial market has a strong potential for wood pellets. It is estimated that by the year of 2019, the consumption of wood pellets will be 4.4 million tons in Canada. Even so, the majority of wood pellet in Canada will be exported to other countries. The same as American wood pellet plants, the main export market for wood pellet manufacturers in Canada is Europe. In 2011, the Canadian pellets export volume with EU destinations is 1.2 million tons. Except that, Canada also supply America and Asia market, for example: Japan and South Korea. In 2011, Canada exports 60,000 tons wood pellets to Japan.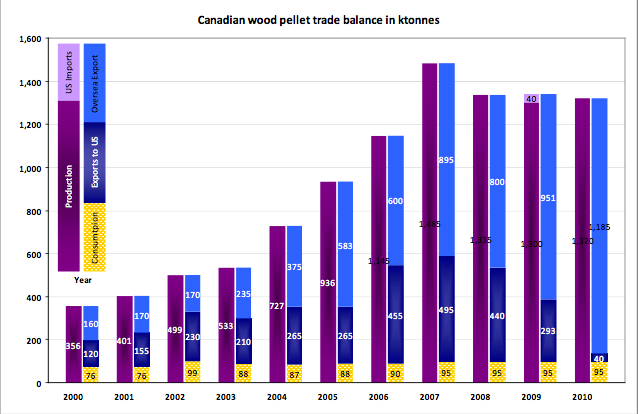 For the wood pellet manufacturers in Canada, a nearby port can help reducing the price of transportation. There are several Canadian ports in consideration: Halifax NS, Quebec QC, Trois Rivieres QC, Montreal, Roddickton NL, Thunder Bay, etc.
Canadian pellet shipping routes