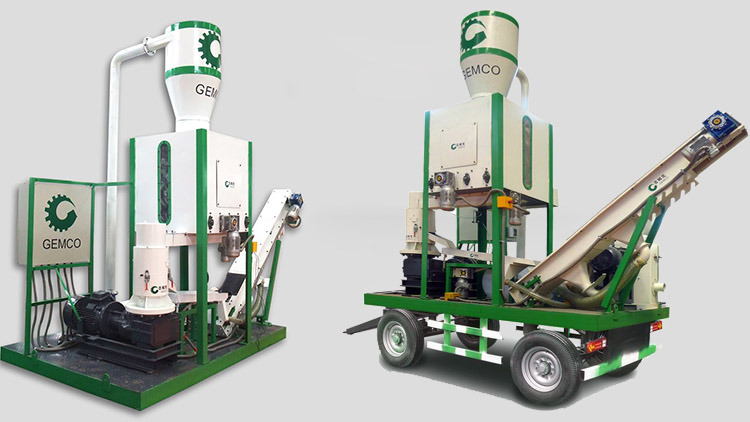 Small mobile pellet plant is an all in one pellet making equipment which consists of the entire pellet making processes, such as grinding, pelletizing, cooling, etc. It is a complete automatic wood pellet line that needs the minimum labor cost.
During the latest decade, wood pellets receive a fast development period. It is made of pine wood, spruce wood, birch wood, poplar wood, corn stalks and other crop wastes, etc. Wood pellet is a type of renewable solid fuel with a combustion efficiency over 80%, and creates little sulfur dioxide, ammonia nitrogen compound, and dust content.
Wood Pellet Application
Living fuel: wood pellet maintains the advantages of high combustion efficiency, easy transport, easy storage, safety use, etc. It can be used as the cooking fuel, barbecue fuel, and the heating fuel for household heating systems.
Fuel for industrial boilers: wood pellet can be used as a main substitute of coal, heavy oil and natural gas, which can help reduce environment pollution.
Fuel for thermal power plants: for thermal power plants, each 10,000 ton wood pellets can replace 8,000 ton coal fuel, which can help reduce 160 ton sulfur dioxide emissions, 80 ton dust emissions, and 14,400 ton carbon dioxide emissions.
With all these applications, there are more and more wood pellet plants (both large scale & small scale wood pellet plants) established in recent years. For large scale wood pellet plant, the engineers will design the special wood pellet line for different investors. But for small scale wood pellet makers, the industrial wood pellet machines are too big for them, either the size and the capacity. A small scale wood pellet investor may have many different limits, such as limited plant site, limited budget, limited labor, etc.
All these problems drives Gemco engineers to design a perfect small mobile pellet plant for small scale wood pellet productions.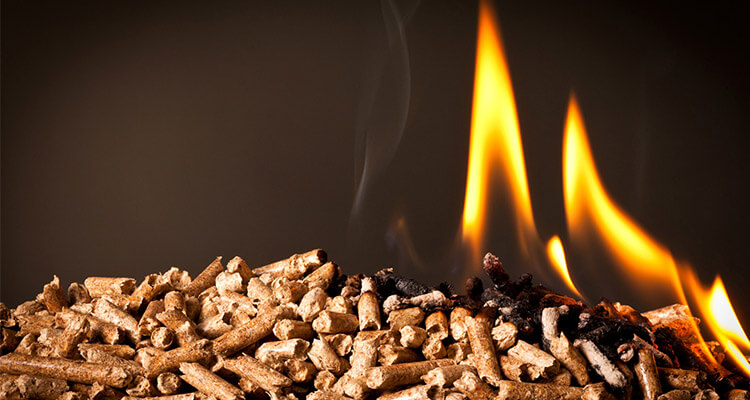 Why Gemco Develops Small Mobile Pellet Plant
The design of Gemco small mobile pellet plant has been through three generations. First, Gemco small mobile pellet plant just connects several self-designed small wood pellet equipment together. In the second generation of small mobile pellet plant, these small wood pellet equipment have been placed on a foundation plate and the raw material storage silo, vibrating screen, dust collector have been added to the pellet plant. Now the third generation of Gemco mobile wood pellet plant uses the pneumatic conveying technology, and the positions of all the equipment are better ranged, which makes it has smaller footprint. Moreover, in order to make the small mobile pellet plant more flexible, we also have the mobile pellet plant with wheels, so it can move more easily.
But what makes Gemco engineers so dedicate to develop the small mobile pellet plant? There are five reasons has been written down.
Multiple Raw Material Sizes for Small Scale Wood Pellets Production
As we all know, the raw material size that small pellet mill can process is with the diameter no more than 5mm. But for small scale wood pellet makers, especially the farmers who wants to make their own farm wastes into commercial wood pellets, the sizes of their raw materials are various, so only with a small pellet mill, is not enough for them to make wood pellets successfully. But an industrial wood pellet line is surely too much for them. Therefore, small mobile wood pellet plant is suitable for small scale wood pellet makers. It consist of the complete wood pellet production equipment but with small capacity, including hammer mill, pellet mill, pellet cooler, etc. so the cost of a small mobile wood pellet plant is affordable for small scale pellet makers, and can help them process their different sized raw materials.
Limited Plant Site for Small Scale Wood Pellet Production
First, we have to understand that there is a large number of small scale wood pellet production requirements are not for commercial purpose, they just need to produce enough wood pellet fuel for their own heating or living usage, such as farmers, schools, office buildings. Therefore, there is no such an official factory site for wood pellets production in every heating season. Therefore, if the pellet making machines can be easily placed on an open ground and manufacturing wood pellet, and after wood pellet manufacturing process, it can be easily stored in a warehouse. Also, there may be no such a big open site for wood pellets production, so the pellet line must operate in limited area. So, a small footprint small scale wood pellet line is the suitable solution for this type of small scale wood pellet makers.
Limited Labor Input for Small Scale Wood Pellet Production
For small scale wood pellet makers, labor cost is a large part of the total input, especially for the ones need to make wood pellets for their own use. Such as the school heating systems or boiler for industrial plants, they only need wood pellet for several months, or a certain small scale quantity, which means the wood pellet line does not need to operate everyday. So there is no need to employ full time workers to operate the wood pellet plant. And if the small wood pellet line can operate automatically, it would surely save a large amount of money for small scale wood pellet makers.
The Production Requirements of Different Pellet Types
In the large farms, there is not only large scale of crop wastes need to process, but also large scale of animal feed pellets that need to produce. If the small pellet plant can produce both wood pellets and animal feed pellets, that would help the farmers save a large amount of money. They can produce their own feed for the poultry and the heating fuels for their heating system and cooking fuels for living. The small mobile pellet plant adopts the top quality materials and with precise engineering calculation, it can be used to produce both wood pellets and feed pellets.
Save Budget for Small Scale Wood Pellet Production
Typically, we may say the limited plant site and limited labor input problem are all because of the limited budget. But on the other side, as a small scale pellet maker, even if you have enough budget, do we real need that much a plant site or that many labors to produce pellets? Of course, no! As a small scale wood pellet maker, especially the pellets are made for self-use, there is no need to pay extra money to rent a site or employ labors, with all that input, buying large quantity pellets may also be a good idea. The reasons that makes people want to produce pellets by themselves maybe that they can save money, or they can use a unique mixtures of ingredients. Therefore, a wood pellet line with small footprint, suitable capacity, less labor cost is the perfect solution for small scale wood pellet makers.